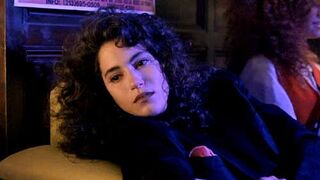 Blair is Clay's girlfriend in Bret Easton Ellis' first novel, Less Than Zero (1985). Like all the Less Than Zero characters, there are multiple versions of Blair's story.
Less Than Zero novel (1985)
Edit
Clay is Blair's inattentive boyfriend. He cheats on her with Griffin (male) and a number of women
Less Than Zero film (1987)
Edit
The 1987 Less Than Zero film is very different to the novel. In it, Blair, played by Jami Gertz, is Clay's girlfriend, who begins cheating on him with Julian Wells (Robert Downey Jr.).
Imperial Bedrooms (2010)
Edit
Circa 1985, Blair was seeing Clay, and very much in love with him, and was also falling in love with the author. "The author's" resentment of Brown-Haired Clay led to the the portrayal of Blonde-Haired Clay in the 1985 novel. The scenes in the novel depicting Blair and Clay's relationship upset her very much. She went to see the film with her friends, after Clay graduated Camden.
Eventually, Blair married Trent Burroughs. They had children together. She last saw Clay before 2010 in 2006. Since then, she fell in love with Julian Wells, and leant him money; he left her for the actress Rain Turner.
Lunar Park (2005)
Edit
The fictional Bret Easton Ellis recalls an affair with Blair on his weekends home from Camden College in Lunar Park (2005). This is similar to Clay's recollection of Blair's affair with the author of Less Than Zero in Imperial Bedrooms.